Australian born multi-instrumentalist and composer Bart Stenhouse has a deep interest in jazz, world, fusion and improvisational styles of music and specialises in the guitar, bass guitar and electric mandolin. His playing style blends different cultures and styles to re-define musical genres and experiment with sonic landscapes.

 However, it wasn't until recently that he found his true calling – world fusion music. Inspired by his travels across North America, India and Spain, Bart's music explores the signature harmonies, rhythms and instrumental identities of different world music cultures.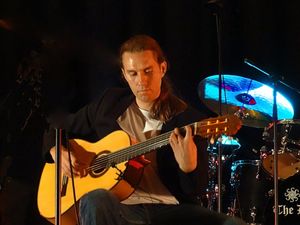 His musical journey began at the age of nine when he started playing the trumpet, followed shortly by the guitar and the bass guitar after being inspired by his father to play. He has been fine tuning his skills in guitar and bass guitar ever since, completing a Bachelor of Music in Jazz at the Queensland Conservatorium in 2005 and continuing to study privately with some of the world's best. This has included study with North Indian Classical maestro Pandit Debashish Bhattacharya, who plays the Chaturangui (Indian Slide Guitar). Bart has also traveled to Spain and North America to study with different flamenco and jazz musicians, expanding his skill and knowledge in these music genres. 



Bart released his debut jazz fusion album 'Blue Benares' with percussionist Abe Stewart in February 2014. The album was recorded in the Indian city of Varanasi over nine days and was an intense musical collaboration and partnership with some of India's finest musicians within the region. Blue Benares is a unique album in that it showcases the skill of Bart and Abe as they worked with local musicians to create raw, original and heartfelt arrangements in a very short time. 


In developing his skill and portfolio as a career musician, Bart worked at the Queensland Conservatorium of Music as a Lecturer in Music Technology from 2013 to 2015. Over the years, he has also applied his diverse range of skills to work as a film score composer, music producer and studio and live sound engineer. His focus now is in expanding his recording and production services in his Stenwood Studios in Byron Bay, New South Wales, as well as continuing to compose, record and produce his own music under his Stenhouse Records label. Not shy of sharing his extensive knowledge and skills, Bart also teaches from his studio in Byron Bay as well as on Skype.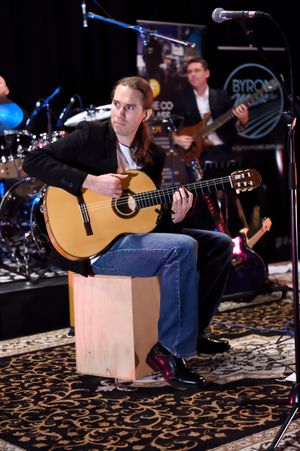 His second release, entitled 'The Best of Times', featured three of the best up and coming Australian jazz musicians: David Galea on electric bass, tenor saxophonist Ben Byrne and Cleon Barraclough on keyboards. 'The Best Of Times' was released in 2015 and consists of a fresh mix of Indian classically inspired Jazz with touches of flamenco harmony and spirit. 

Wielding his weapons of choice, electric and flamenco guitar and electric mandolin, Bart teams up with original artists across the globe to explore and craft soundscapes not heard before. An experienced producer, Bart records and releases his compositions under his own label, Stenhouse Records.  Hailed as 'one of the best up and coming jazz fusion artists' by Indian slide guitar maestro and guru Pandit Debashish Bhattacharya after his performance at the 2016 India International Guitar Festival, the young Australian composer is fast building a reputation as an original, collaborative and innovative artist.
  
In 2017 Bart toured across Australia with gypsy jazz guitar legend Lulo Reinhardt (Germany) performing 15 shows around the country including a special performance as part of the Devonport Jazz Festival. 
Bart plays and is an endorsed artist for ACUS Acoustic Amplifiers (Italy), Anders Eliasson flamenco guitars (Denmark) and Milk Instruments  (electric mandolin Australia). Bart also plays Godin electric guitars (Canada) and uses D'Addario Strings. 
http://www.eliassonguitars.com
https://www.facebook.com/milkinstruments



https://en.wikipedia.org/wiki/Bart_Stenhouse

http://www.imdb.com/name/nm5185726/?ref_=ttfc_fc_cr8